Mark your calendars and come join the fun! The 2022 Rendy will be held June 16-19 near the Salt Creek Summit Sno Park outside of Joseph, OR.  The road to the Rendy is paved except for the last 1/8th mile from the Sno Park to the Rendy site.  There is no cell service once you leave Joseph.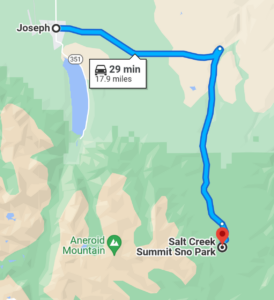 There is a pond where you can get water for your goats.  You will need to bring water for yourself.
The Forest Service required NAPgA's Best Management Practices be part of the permit so everyone will need to follow them while at the Rendy.  Here is a link to the BMPs: https://www.napga.org/resources/best-management-practices-psr/
Here are the 2022 Rendy Rules
A great lineup of classes will be offered and for the first time we will be offering youth specific classes, too, so be sure to bring the next generation of goat packers! 
Here is the full Rendy Schedule
Bring your musical instruments for some tunes around the campfire!
Map of the area: