The Board of Directors are elected by the general membership of NAPgA and serve 3-year terms.
Officers are elected by the Board of Directors at the first annual board meeting each year.
Chris Gifford
I live in a small town in Central Washington (Selah) with my amazing wife, Gloria.  We do not have human children, but we have 21 four-legged children (18 goats, 2 dogs, and 2 cats).  I have worked as a paralegal for the past 25 years.  During the fall of 2018, while daydreaming and researching for my big game hunting hobby, I discovered packgoats and suddenly the door to a whole new world was opened.  Within days I reserved 4 packgoat prospect bottle baby wethers and the rest is history!  Two of my wethers were stricken by urinary calculi (UC) in the winter of 2020/2021.  Thanks to excellent veterinary care and drastic changes to their feed and water, those two boys are still with us today.  The experience has driven me to help other people better understand and manage the contributing risk factors.  I am proud to be a part of NAPgA's UC Research Committee and the work it has done to design comprehensive research projects related to this horrible disease.  I look forward to continuing to work on this project and helping NAPgA and the packgoat community with land management issues to maintain access to public lands for goat packing.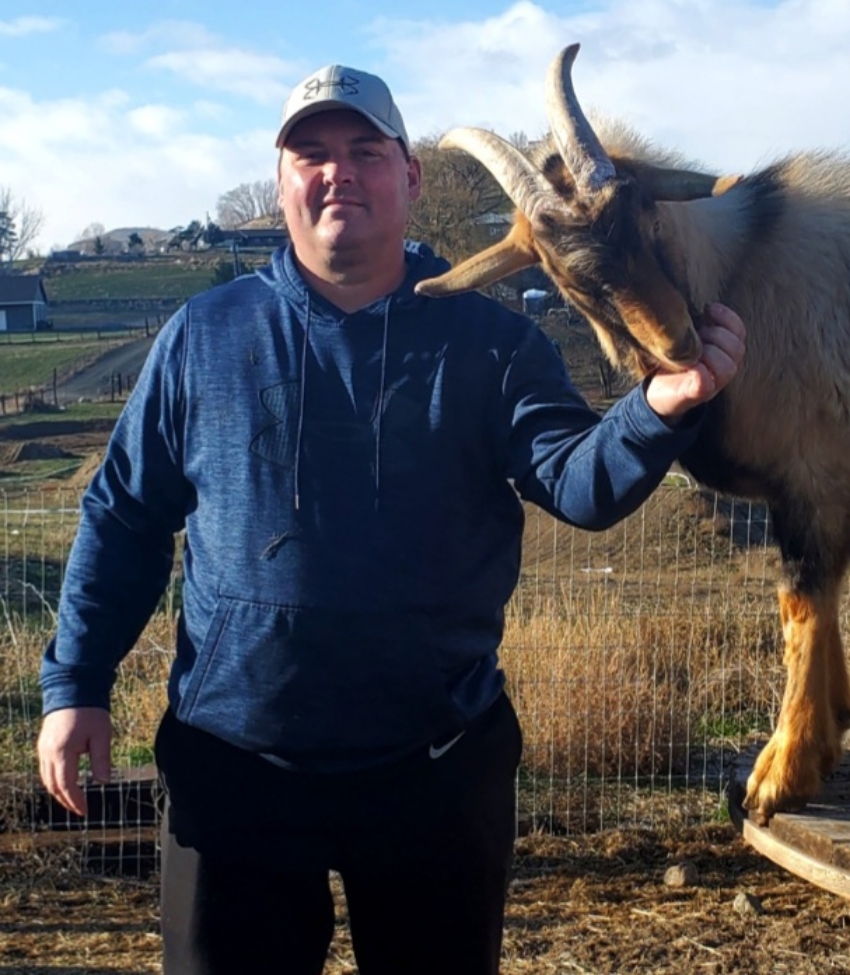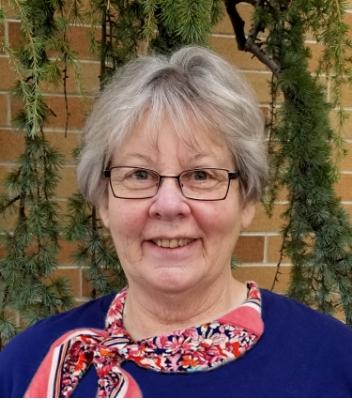 Taffy Mercer
I purchased my 1st goat in 2012 and I wish had been involved with goats my entire life.  I am currently owned by five goats, 4 wethers and a retired doe.
My husband, two sons, their families and I, live and work on our 300-acre orchard grass hay farm in south central Washington State.  We also own 3 other small businesses together.  I am truly blessed to have our sons living and working with us and to also have the opportunity to enjoy time with our 4 grandchildren every day.  Family is extremely important to me.
While my degree in accounting is an indoor profession, I have always loved wildlife and the outdoors.  Hiking, camping, fishing and hunting have been a part of my life from the time I was old enough to kick the brush for pheasants for my Dad.
I am actively involved in advocacy for keeping public lands open to packgoats.  I was chair of the NAPgA Packgoat Guidebook Committee which NAPgA published in December 2021.  I am currently the chair of the NAPgA UC Research Study Committee and a member of the Website Committee.  Serving NAPgA is important to me.  My packgoats have given me so much and I enjoy supporting the organization that supports goatpacking.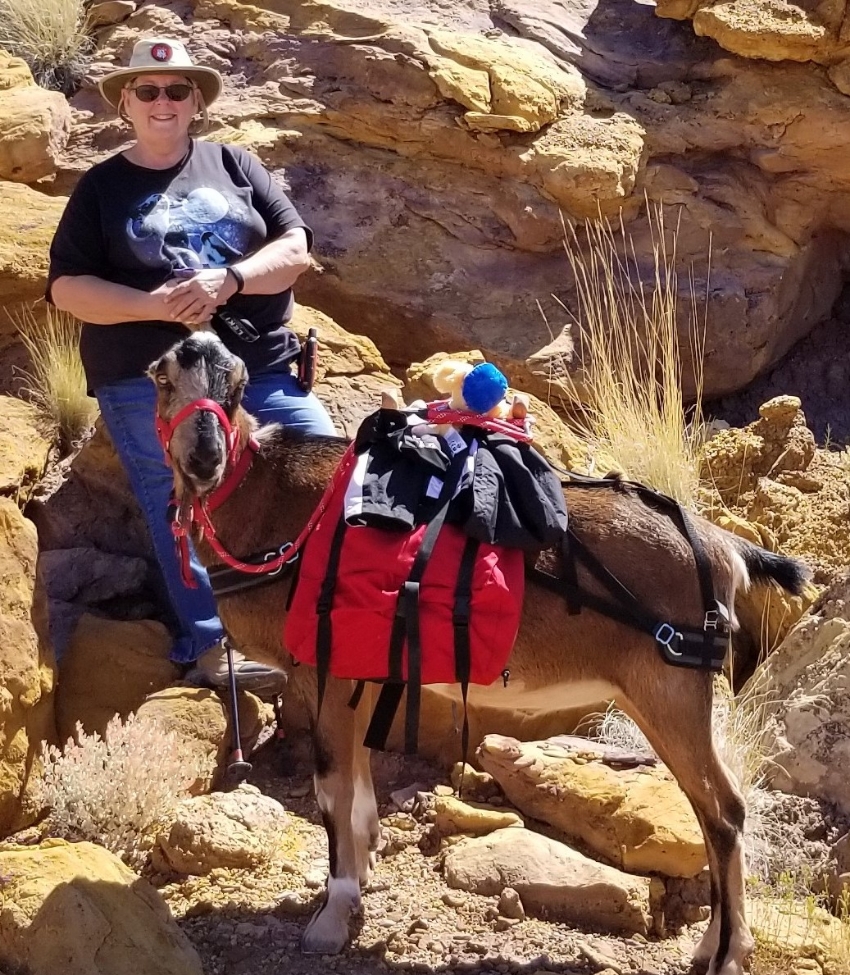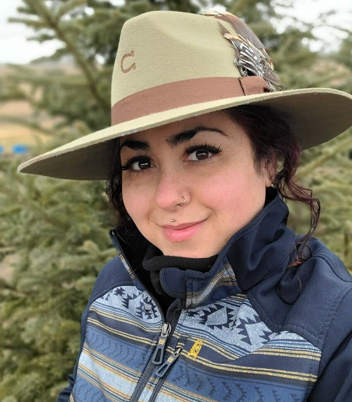 Candace Ahern
I am a SW transplant to the NW. I currently live in Spokane Washington where I own a business focused on helping promote the well-being of children by ensuring safety, achieving permanency, and strengthening families. On my down time I have the benefit of growing my homesteading knowledge and exploring with my family, friends and ever growing herd of packgoats. I love taking pictures of all our travels and capturing the beauty of nature. I have a passion for building stronger communities and preserving traditional skills to pass on to the next generation. I have been learning to hunt and fish and am blessed to be able to take advantage of all that the amazing NW has to offer.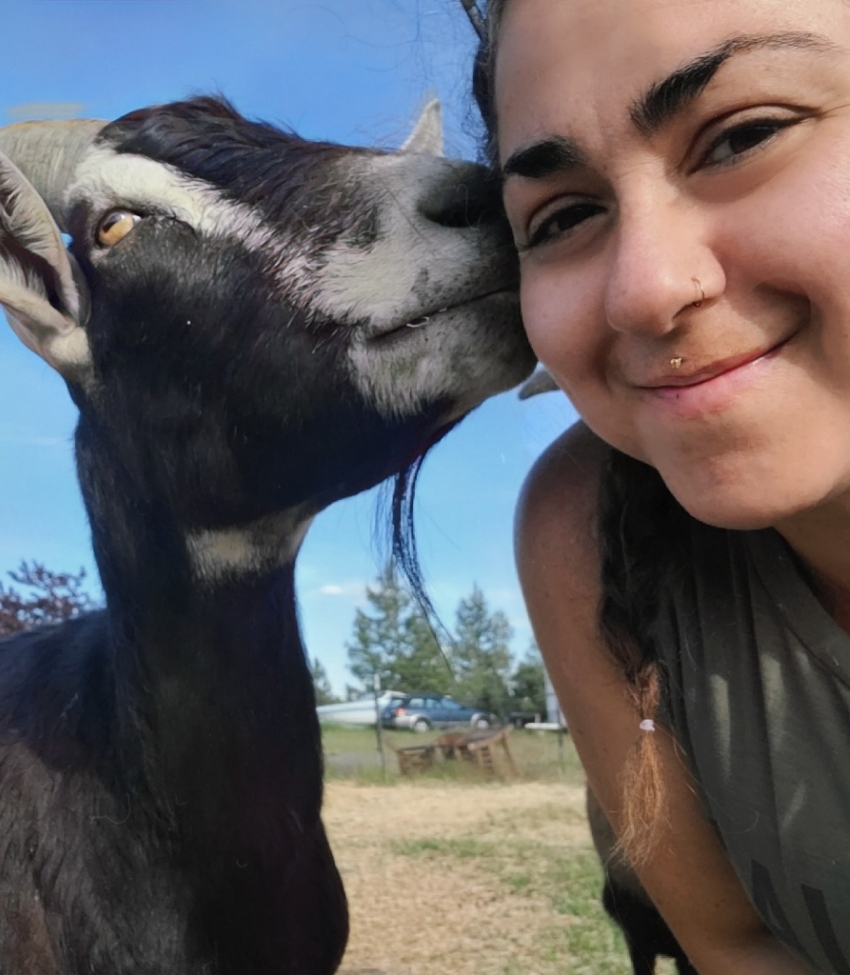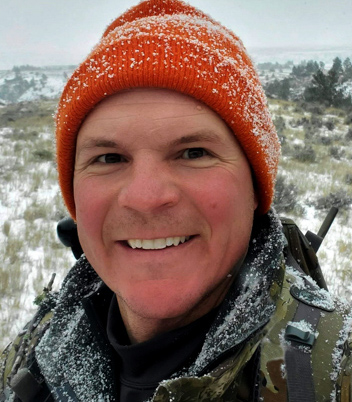 Zab Breuckman
I grew up in Wisconsin, and I have also lived in Washington, Michigan and now Bozeman, Montana where I work as an electrical engineer for the City's Water Department. I got my first pack goats in 2015 and I love exploring the Montana backcountry with them. I am an avid hunter of both birds and big game. I previously served as the Registrar and then Treasurer for the Český Fousek North America (Bird Dog Breed Club). My pack goat herd includes Saanens, Alpines, an Oberhasli cross and a Toggenburg cross.
I use my goats for hunting in the spring and fall. In the summer I like to take my Midwestern family and friends on goat expeditions into the high country. Using pack goats has been a great way to introduce people to camping away from their cars! I really enjoy using the goats in the late fall/early winter when snow starts to fall and most people have hung up their boots for the season.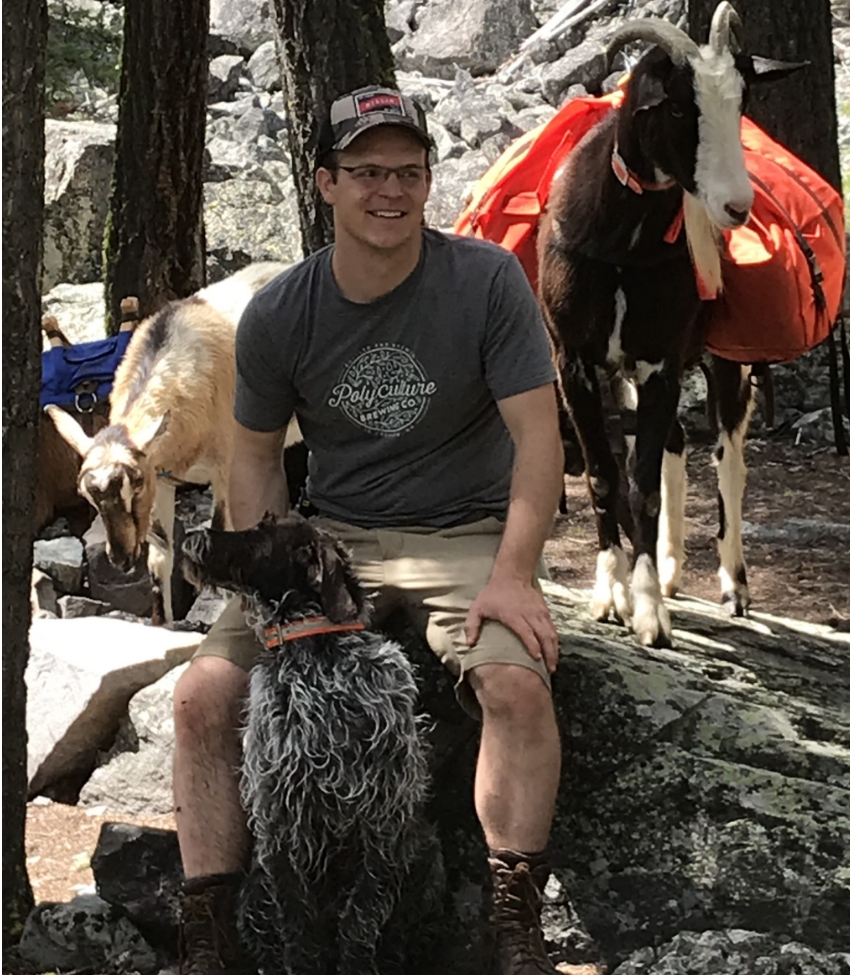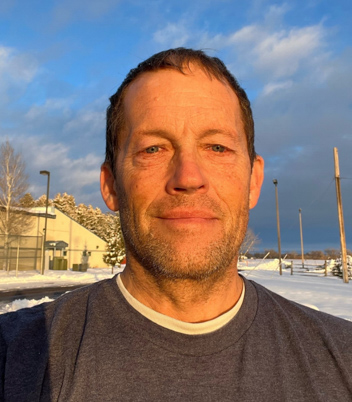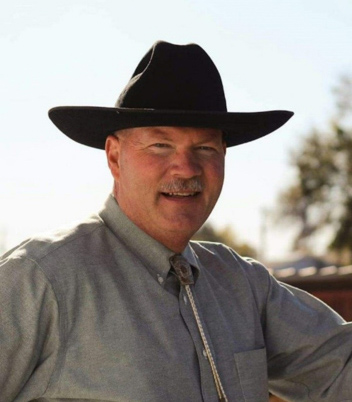 Curtis King
I am a native resident of eastern Washington. I reside in Burbank Washington on a small hobby farm next to the Snake River, which I have called home for twenty years. I have been a law enforcement officer with the Pasco Police Department for 33 years.
I have been an outdoorsman for over forty years which has included chasing upland birds, waterfowl, and deer and elk in the backcountry of the Umatilla National Forest.  I first learned of packgoats in approximately 1996 while reading an article by the late Dwight Schuh, titled "Pack Goat Wisdom" in Bowhunter Magazine. This led me to doing extensive research on the use of domestic goats as pack animals. I began my personal packgoat adventure thirteen years ago and have never looked back. Raising, training, and packing with my goats has been an absolute game changer for me.  Packgoats have allowed me to go to places and on adventures that could not have been achieved without this perfect pack animal that has "No Boundaries".
My connection with the pack goat community led to me joining the North American Packgoat Association in 2014. After working closely with the association for a few years, I was elected as NAPgA's President.  I served in this position for six years (2017-2022). I was instrumentally involved in developing and crafting NAPgA's Best Management Practices for the safe and responsible use of pack goats in the backcountry and near bighorn sheep habitat. I have been actively involved in increasing the awareness and education of packgoat users and the packgoat community in best management practices for using packgoats on public land.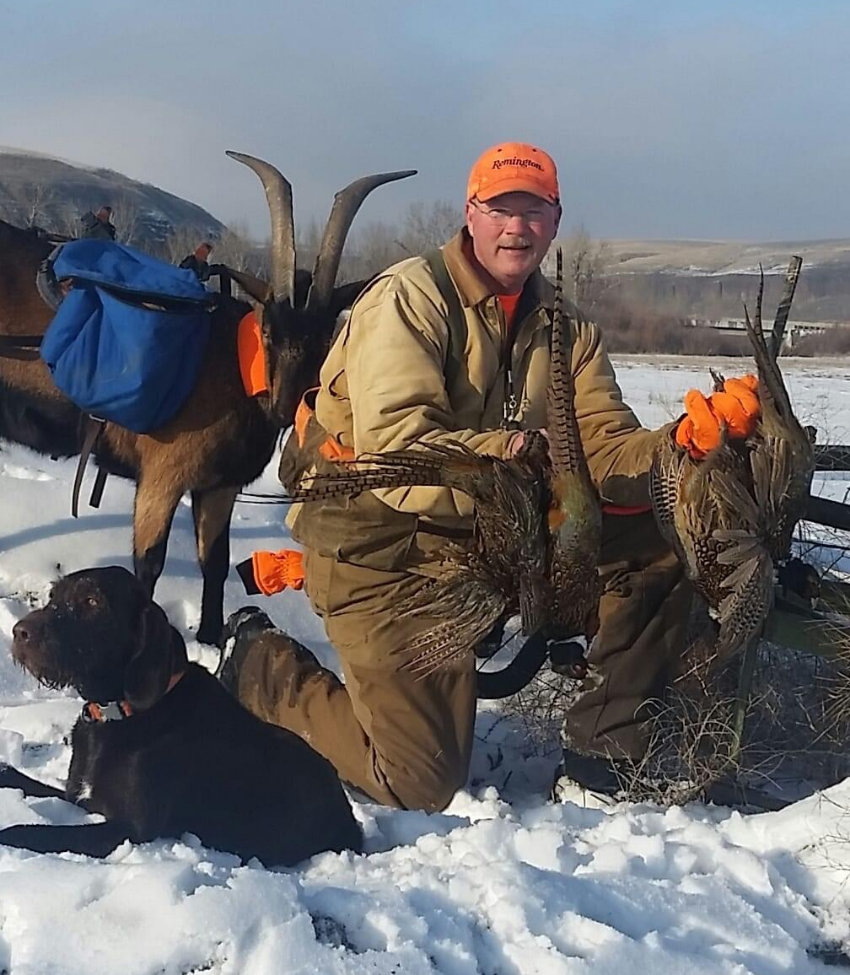 Matt Kueffler
In 2006 I was in a very bad car accident that led to me having to learn to walk and talk again along with carrying weight restrictions. At that point in my life I was very active and did lots of hiking and backpacking, so in 2010 I bought my first goats. Now I have 14 goats, 5 breeding Doe's a Buck and 9 Pack Goats, I currently own and operate Brush Mountain Pack Goats. In 2021 I was notified that the NAPgA was looking for some new board member's. I gladly applied and was voted onto the Board of Director's in 2022. I now fight for all pack goat owners against whomever decides to infringe on your right to use pack goats in this great country. Anyone can feel free to contact me on any and all pack goat issue's or general questions.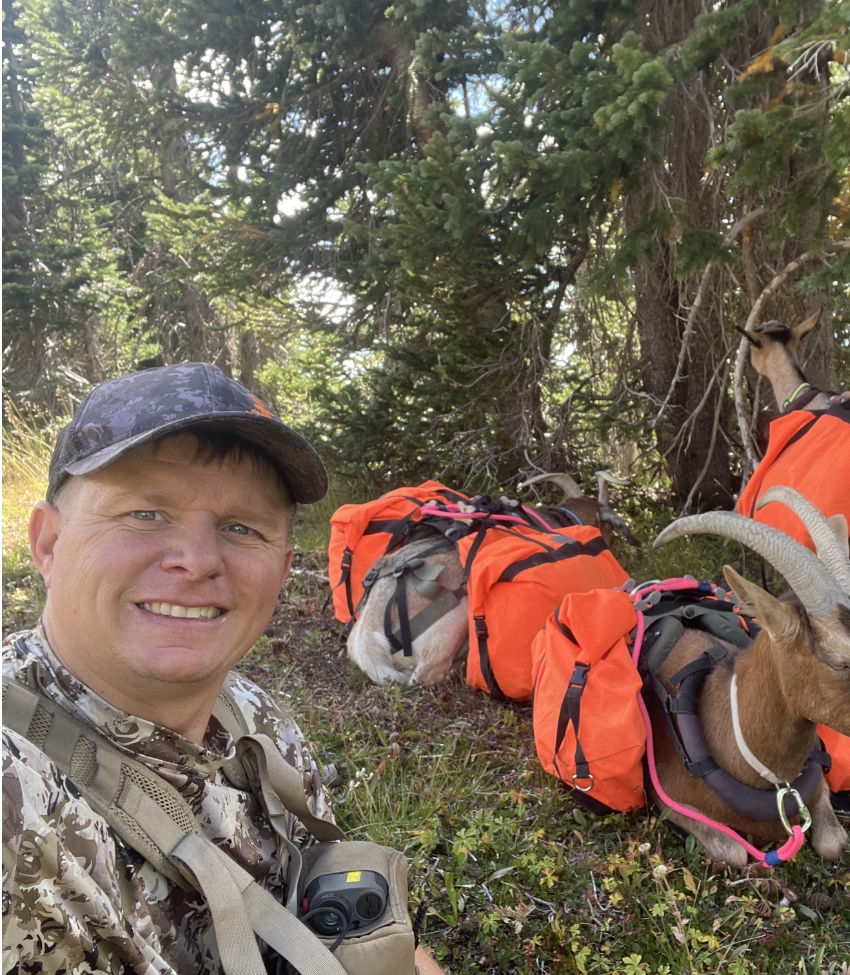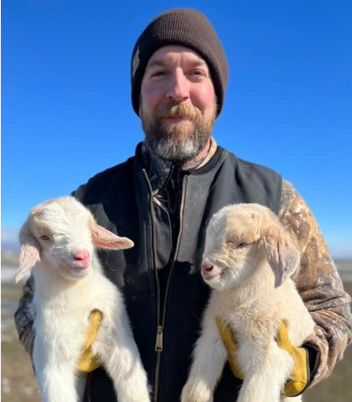 Nathan Putnam
Located in southwest Idaho, I have been breeding and packing with goats for 7 years. As an avid hunter and outdoorsmen one of the things I pride myself on is including Pack Goats in all of our backcountry adventures no matter the season. With more than 2000 backcountry goat miles under my belt I have been able to glean a special knowledge with these animals that has helped me to understand how exceptional they are as pack stock and that each goat has its own unique personality. These animals are meant to be on trail and in the mountains and it's my goal serving as a board member for the North American Packgoat Association to make sure that our wilderness rights are preserved for future generations of Goat Packers.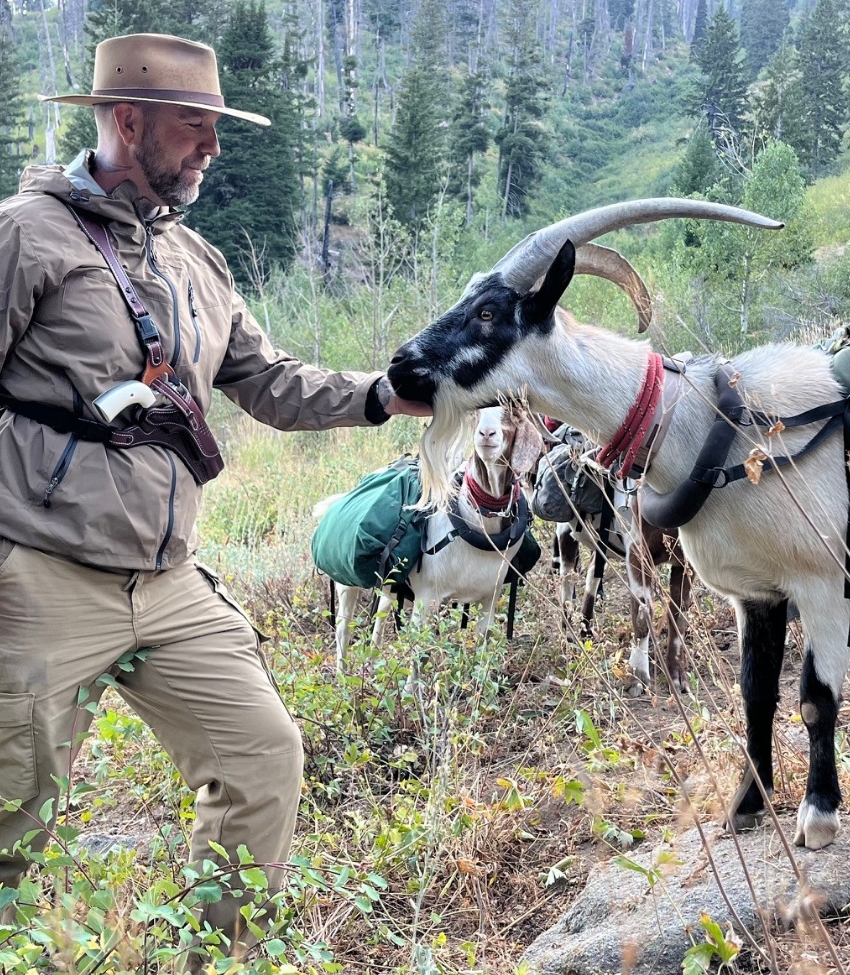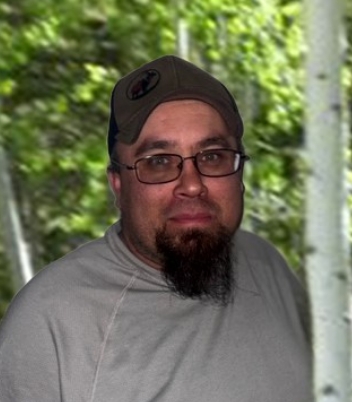 Christopher Righi-Holmes
I grew up in Renton WA, and currently live in Graham WA. My wife Karin and I have always wanted a small property to where we could have animals.  In 2015 we bought our slice of heaven and started our goat adventure. We started out with 3 Nigerian goats that caused the goat addiction to start. Since then we have grown to 25 goats on our farm.
I read an article about packgoats in Elk Hunter magazine that piqued my interest in packgoats.  Using packgoats to hike into high country lakes for fishing and for hunting is amazing.  We currently have 6 adult packgoats and breed Nigerian dwarf goats.
I believe it's extremely important to foster a relationship with local agencies.  By doing this I feel we can change their understanding of packgoats and retain the use of the public lands we all love.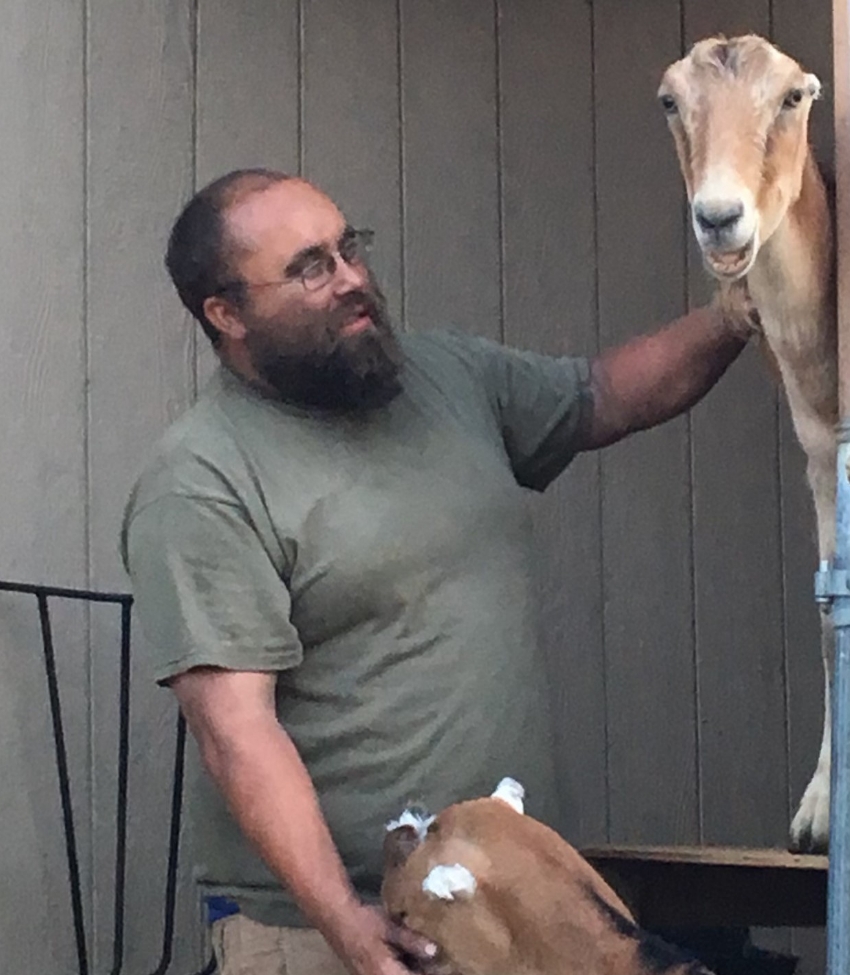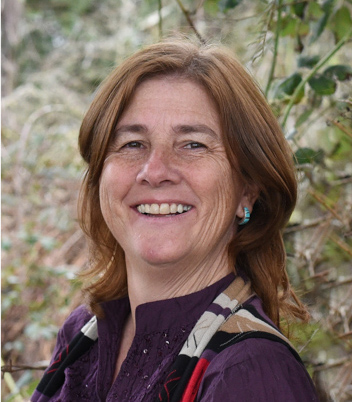 Margaret Scott
I grew up in Los Angeles County and eventually moved to Bakersfield, California to find a little chunk of land for my animals. My packgoat herd started with about 7 boys and has grown to include a breeding program for packgoats. Getting into hiking with packgoats has given me more opportunities to continue to enjoy the places that bring me sanity.
I joined NAPgA because I recognize the value in the organization. I am currently on the UC Research Study Committee, the NAPgA Website Committee and the Rendezvous Committee. I have been following the Sierra and Sequoia NF plans and have spoken in favor of continuing to allow packgoats in these forests. I have been an instructor at National Wild Turkey Federation's Women in Outdoors events introducing packgoats as an addition to hiking and camping getaways.
I am currently the office manager for an engineering firm. I was a professional manager for Girl Scouts for over fifteen years. I was a membership recruiter, director of outdoor program and risk management and was a master trainer of Leave No Trace. Providing girls and their parents with reasons to get outdoors was life changing for many and it was something I enjoyed sharing. I will use those skills to help NAPgA continue growing and make a positive presence in the outdoor world.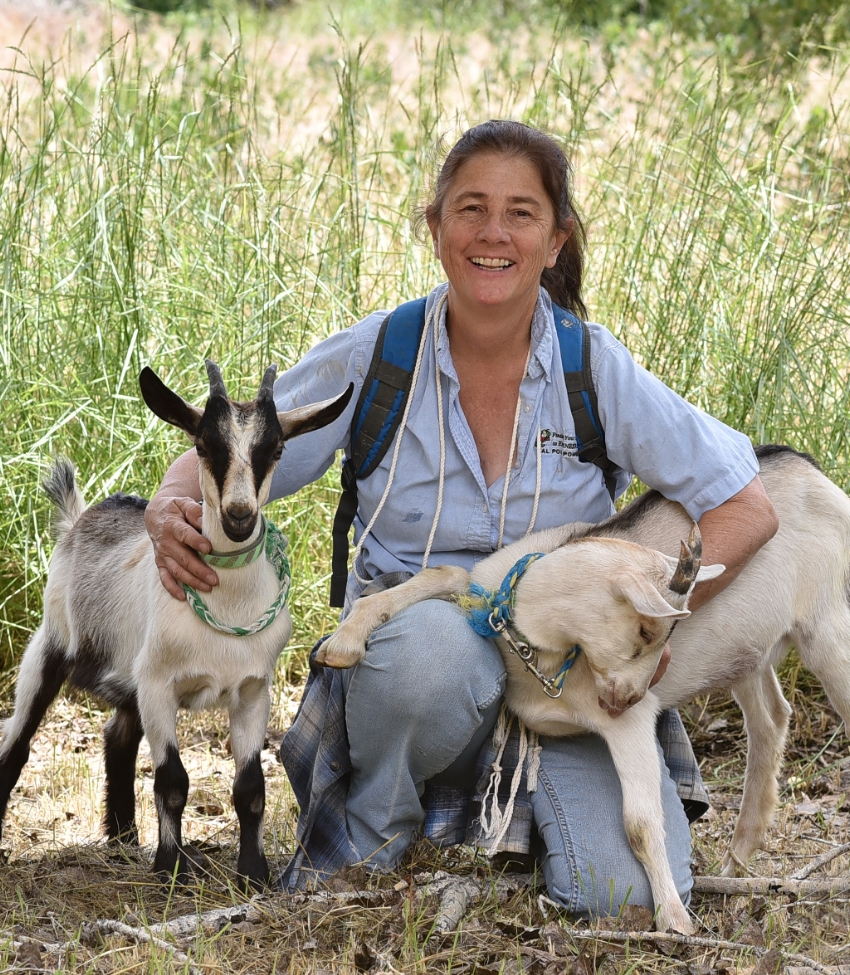 Officers Appointed by the Board of Directors (Non-Voting Officers)
The position of Treasurer may be filled either by election of a Board Member or by appointment of a general NAPgA member by the Board of Directors.  An appointed Treasurer serves at the pleasure of the Board of Directors and can be removed by a 2/3 majority of the Board at any time.  A Treasurer appointed by the Board of Directors must have their appointment renewed annually at the first meeting of each calendar year.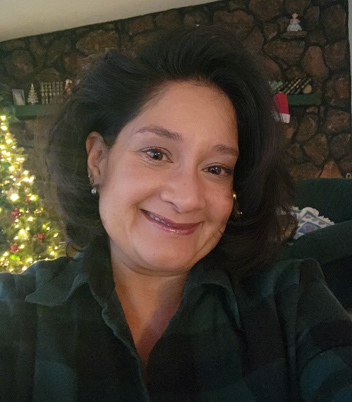 Gloria Lorenzo
My name is Gloria Lorenzo and I was born and raised in Washington state.  I graduated from the University of Miami with a BA in Political Science. I have had the opportunity to experience living and traveling abroad including living in Panama City Panama for 15 years before returning to Washington state.
I currently work from home as an interpreter and have been doing so for the past 9 years. Before I settled into that career, I held 2 positions on the Board of a non-profit organization in Panama as Secretary and Treasurer throughout the years 2001 until 2013. I have at least 25 years of experience in managing operational and administrative duties, including accounting, for businesses.
I am now happy to say that I have returned to Washington and am living in the town that I grew up in of  Selah Washington, with my wonderful husband, 18 beautiful goats, 2 amazing dogs, and 2 wonderful cats that I call my children.  I have been a NAPgA member since 2019.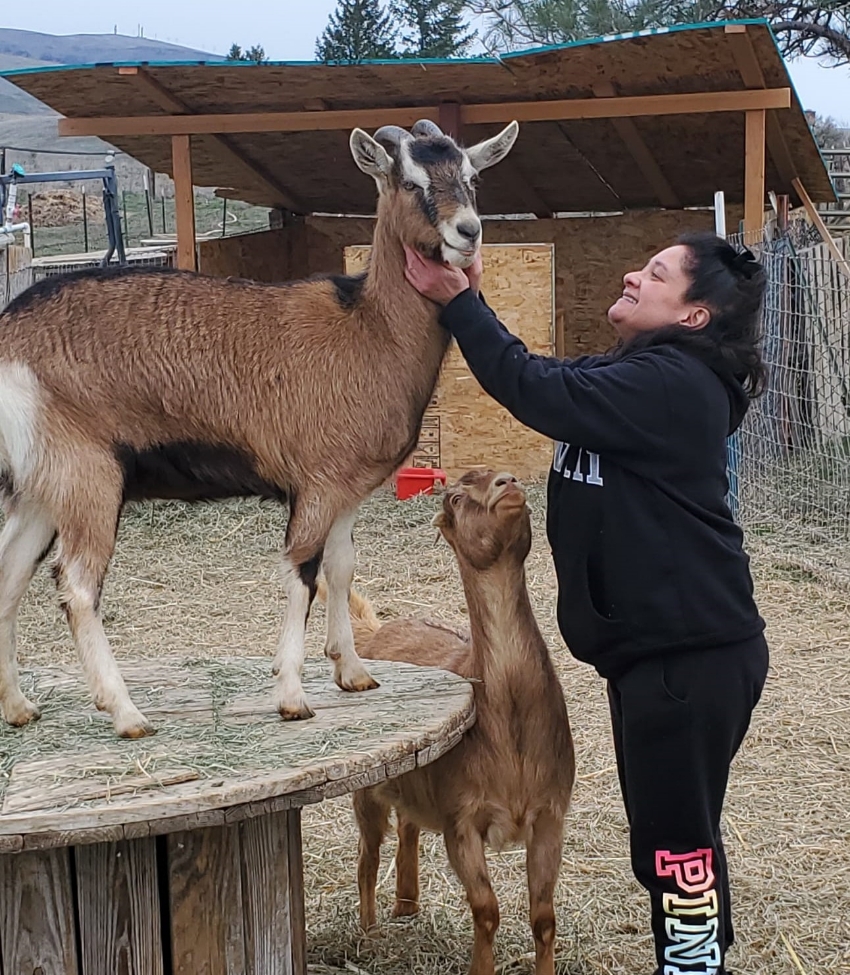 Consulting Members are appointed and approved by the Board of Directors to provide assistance and advice regarding specific organizational goals or issues necessary for the successful operation of NAPgA in pursuit of its mission.  Consulting Members typically possess relevant experience, education, or training related to the topics for which they provide consulting services.  Consulting Members serve at the pleasure of the Board of Directors and can be removed at any time by a majority vote of the Board.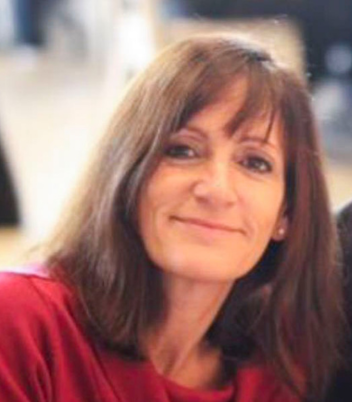 Strategic Planning and Budgeting
Diane Miller
I am a retired RN and public health administrator. I hold a Master's Degree in Nonprofit Management and has 25+ years experience working and volunteering for a wide variety of nonprofit organizations and community initiatives. My work experience includes grant proposal writing, program development and evaluation, strategic planning and board development. My husband and I own a small business and have enjoyed hiking and camping with our packgoats since 2015.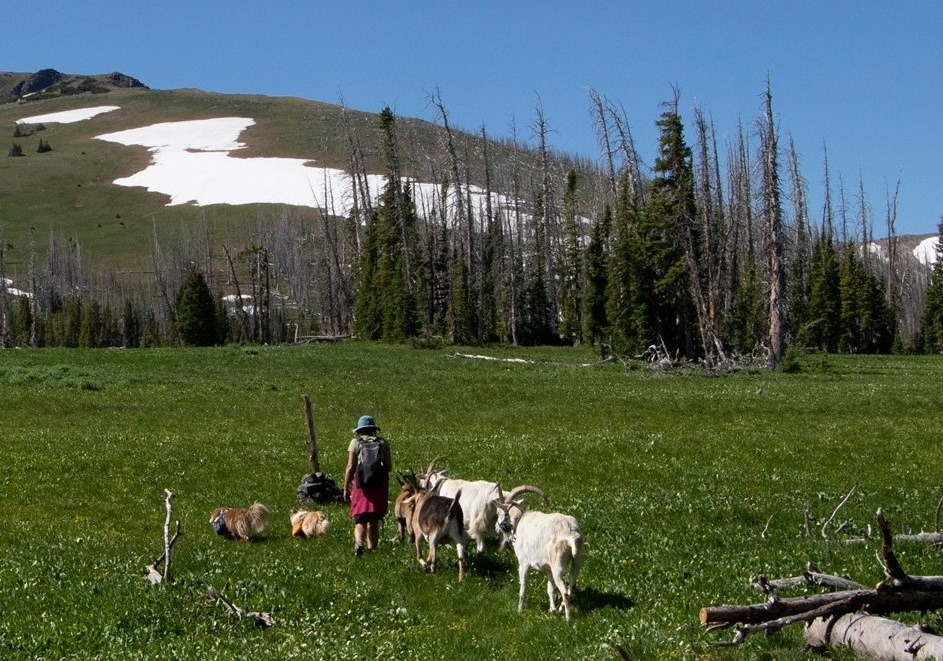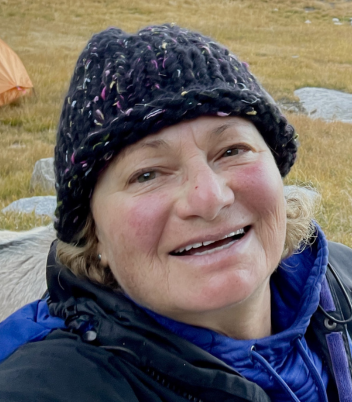 Access to Public Lands and Forest Plans
Irene Saphra
I got my first pack goats in 2009, because I love hiking and backpacking but don't enjoy hauling a heavy pack around in the backcountry.  Although I had no previous experience with stock animals, I was instantly smitten with how lovable and loyal goats are.  I am a former NAPgA Board member and am now a proud Lifetime Member.  In addition to hiking with my goats, I also have "volunteered" them for various projects, including trail work with the Idaho Trails Association, and packing in supplies to remote backcountry aid stations for ultra-marathon trail races.
My professional career in Natural Resources began in 1981. I progressed through the ranks of Fire Management, serving as a Team Member on a multitude of Land Use Projects, including Forest Plans, Environmental Assessments, and other landscape-scale activities, that gave me a strong background in Federal and local land use policies and laws.  I worked for both the US Forest Service and the Bureau of Land Management, and retired in 2008.  I currently live in New Meadows, Idaho, and enjoy recreating in the millions of acres of backcountry adjacent to my home.  My employment experience has contributed to my passion to ensure Goat Packers will continue to have legal access to Public Lands.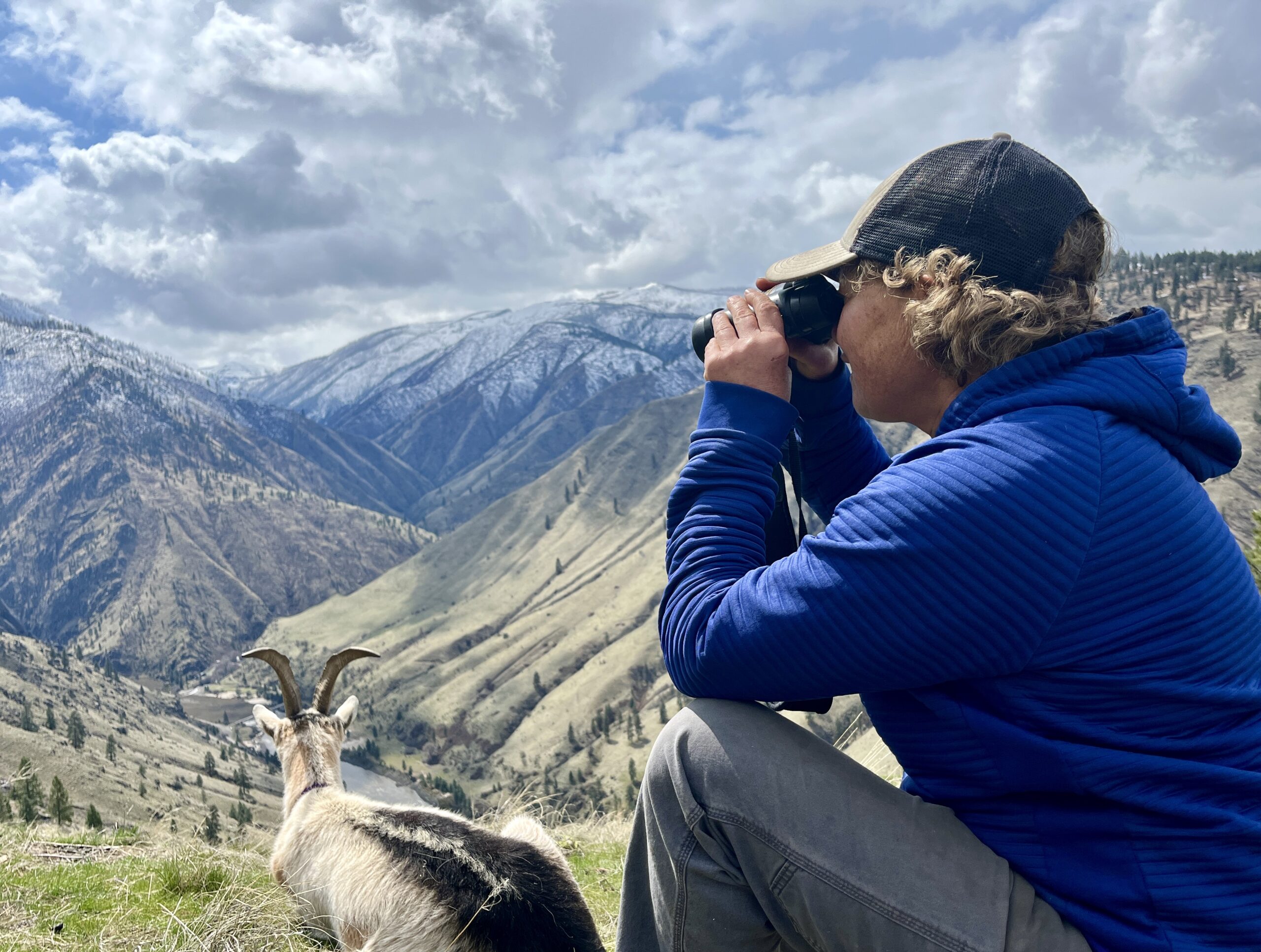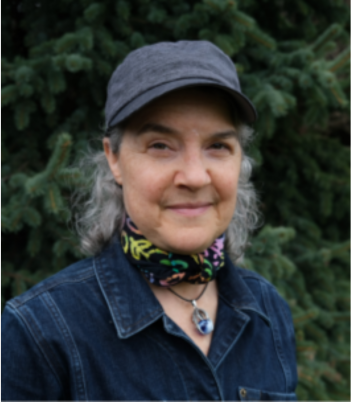 Access to Public Lands and Research
Nancy Clough

Packgoats piqued my curiosity in 2000 when looking for a way to take the load off when elk hunting. It took me 7 years of reading and planning before I got my first 3 Oberhasli and I have never looked back. My occupation as a nurse has kept me engaged in health related research throughout my career. I was involved with the 2016 Packgoat MOVI prevalence study. Good quality evidence based research takes time to read and understand. This is a challenge I enjoy and hope to help if needed.