NAPgA Rendezvous 2018 – Island Park, ID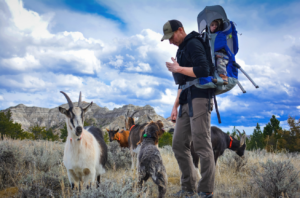 The 2018 Rendezvous is almost here! The schedule is lined up and we've got some great classes and events planned.
Please take a moment to review the "Rules of the Rendy".
To get there: Go 5.8 miles north of Macks Inn, Idaho then 3.5 miles west off Highway 20 ( mile post 398 approx) on Red Rock road south of Henry's Lake
Please remember to bring your donations for the fundraiser store/auction, and also be ready to purchase some cool goat stuff you might not find anywhere else!
If you can't attend the Rendy this year but would still like to donate, please send your items to:
Kent Daniels
2330 East, 300 North
St. Anthony, ID 83445
208-351-7111
CLICK HERE for more information!
Photos of the camping area can be viewed HERE!
Goats coming from out-of-state are required by state law to have health certificates. The address for the health certificates is:
3.5 miles west of 4771 North Hwy 20, Island Park ID 83429
On Forest Road 051 at the end